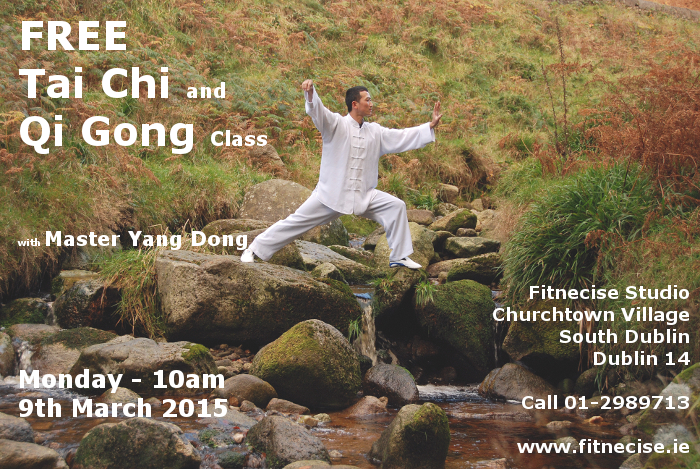 Join Yang Dong for a
FREE – "Tai Chi, Qi Gong for Health and Well Being Class"
on Monday 9th March 2015 – 10am,
in our Fitnecise Studio in Churchtown Village, South Dublin.
Please contact the studio to reserve your place, as places are limited.
_
Dong Yang, comes from a traditional Chinese Kung Fu family. He is a native of Jin Lin province and an 8th-generation Shaolin Fo Han practitioner, a distinctive ancestral or family tradition-style learned under Grandmaster Zhang Qi Chen.
He is a member of the Chinese Wushu Association, and is a qualified instructor in Taiji Quan (Tai Chi), Shaolin Fo Han Quan, and San Shou (Chinese kick boxing).
Since first beginning to teach in Ireland back in 2003, he has instructed a number of students in Navan, Drogheda, and Dublin. These classes have steadily increased in size and ability over time. As a result of this ongoing interest in Chinese martial arts, he believes that the time is now right to establish a school of instruction that aims to be a model of best practice, and lay firm foundations for an organisation dedicated to the cultivation of a martial discipline uniting the best of Chinese martial philosophy and praxis into a dynamic and integrated whole.
He has been invited to teach in various schools e.g. Greenhills Girls School, St Joseph's School in Drogheda, St Michael's school, Meath Youth Federation, Beaufort College In Navan, Trim Community School, Trim VEC, Trim special sports club, Sancta Maria College, Master Chrsti secondary school in Dublin, Irish Life company in Dundalk, European Commission in Grange etc..