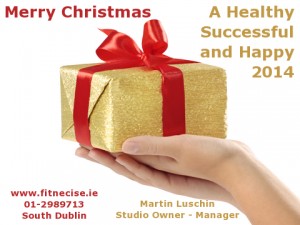 We are there – it's Christmas Eve and we had a very busy year in the Fitnecise Studios here in South Dublin, Churchtown Village.
We want to thank all of our customers for your continuous support over the last 14 months, yes – it's already 14 months ago since we moved from the Nutgrove Studio to our new Churchtown Studio in November 2013.
Time flies if you are kept busy and yes – managing the studio, kept me me very busy. Classes had to be organised, taught, new instructors had to be find, various therapist joined, some move on again, I worked as cleaner, manager, social media person on facebook, wordpress etc, marketing manager, SEO specialist, web-designer, graphic-designer, a bit a personal trainer ;-), class instructor, nutrition and diet advisor, new ventures had been started e.g. I completed – finally my Kettlebell Instructor Qualification with the NTC National Training Centre in Dublin, I took on a call answering service (it's value still has to be evaluated), a
A BIG Thank YOU – a Merry Christmas and a Healthy, Happy and Successful 2014 to all who:
1. attended our Fitnecise Studio Classes
2. rented our Therapy – Treatment Room and the Personal Training Studio
3. who availed of various Treatments and Therapies
4. who taught fitness and exercise classes e.g. Pilates -> Karen Watkins, Tai Chi -> Barry Kirwan, Yoga -> Nicole Bork and Edward Lukawski, Kids Yoga -> Chantal Stewart  … I hope I didn't forget.
5. who spend time in meetings with me brainstorming, reviewing idea, creating, trying to hold me back …
6. who helped me during the business mentoring with QED Training run the City / County Enterprise Boards.
!!! And to that one person who showed more patience than everybody else, my girlfriend,  with me living my dream creating a place where people learn how to live a healthier life, get fitter, have more energy day in day out and enjoy the journey !!!
…
You all made it possible to get the Fitnecise Studio Churchotwn off the ground – 14 months are over, they flew buy, long days and weeks were worked, fun was had, bodies got stronger – fitter – learner and are more toned.
Our 2014 Classes start during the week of Monday 6th January 2014 with new classes e.g. Kettlebells, Prenatal and Maternity Pilates, Tai Chi etc..
Merry Christmas and see you all in 2014 for another successful and exiting year.
Martin Luschin