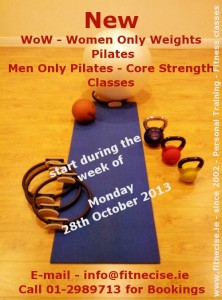 Our next set of Evening - Fitness Classes in south Dublin starts next week, during the week of Monday 28th October 2013. There won't be any classes on that Monday, as it is a Bank Holiday Monday.
Our Fitnecise Studio – Fitness Classes include:
Pilates Classes
WoW – Women Only Weights
for Toning and Weight Loss
Yoga for Athletes with Nicole
starts the following week Thursday 7th November
Men Only Core Conditioning and Pilates
Combining traditional Pilates Moves, Mobility, Flexibility – Gym Like Core Work to prevent injuries and add all over strength.
Kettlebell Classes will start most likely in November
dates will have to be confirmed.
Tai Chi for Health and Well Being
with Barry Kirwan started Monday 21st October 2013
Call Barry at 085 736 6973 for details.
Morning Pilates and Circuits Classes
take place as usual Monday to Friday 9.45am-10.45am
Find a full Fitness and Exercises Class Timetable for our south Dublin based studio here
or call our Studio at 086-1736720 – Monday to Friday 9am-5.30pm.