Pilates Instructor – Pilates Teacher Vacancy, Job in South Dublin
Please e-mail us a brief CV, copies or relevant certificates and a copy of your up-to-date insurance policy if you are qualified Pilates Instructor (and possibly a personal trainer, fitness instructor or other health professional as well),  who lives in the greater South Dublin area and is available during one or both mentioned times.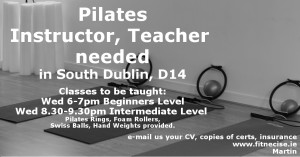 Pilates Class details and requirements:
Class times:
Wednesday 6pm-7pm – Intermediate Level (to start 14th May 2014)
Wednesday 8.30pm-9.30pm – Beginners Level (to start asap)
Location:
Fitnecise Studios, 11 Breamor Road, Churchtown Village, Dublin 15
(5min drive from the M50).
Qualifications:
Instructors should be qualified and have ideally 1-2 years experience (especially for the 8.30pm Intermediate Pilates Class). Instructors with less experience will be considered as well.
Insurance:
You will need your own indemnity and public liability insurance, we can't consider you for this position if you don't have your insurance sorted out.
Other Qualifications:
There might be other opportunities  e.g. offering One-to-One Pilates Sessions or One-to-One Personal Training in the studio for Personal Trainers, Fitness Instructors or Health Professional with relevant qualifications. 
We don't need the help of agencies.
Yours in Fitness and Health
_ Martin Luschin (Owner Fitnecise Studios)