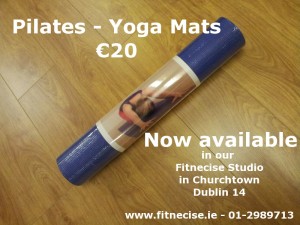 From this week on-wards we are changing our – Mat Policy – in our Fitness, Pilates and Yoga studio in Churchtown, D14. Class participants will have to bring their own Pilates or Yoga Mat.
_
We are starting to sell Pilates / Yoga Mats from a UK based provider to the same price as they sell it on their website, meaning you will save postage from the UK.  Pilates Mats are 4.5mm thick – this provides sufficient soft cushioning to protect knees and bottoms, 183cm x 61cm, non-slip and come in currently in two colors Royal Blue and Purple.
Call Martin at 086-1736720 for more information and to arrange collection or e-mail us via our Contact Us Section.
Happy Monday 🙂
_ Your Fitnecise Studio Team
__M