Just a quick reminder re our Pregnancy and Maternity Pilates Classes in south Dublin. The Prenatal Classes start next week, during the week of Monday 13th January 2014, there will be one evening and morning Pregnancy Pilates Class.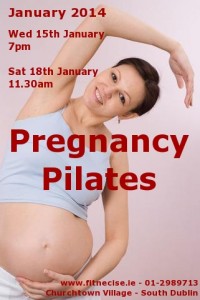 Our 6 week Maternity Courses in our south Dublin studio take place:
1. Wednesday Evening  Class – 7pm-8pm
2. Saturday Late Morning Class – 11.30am-12.30pm
Find more details, course fees, maximum number of class participants, location etc.